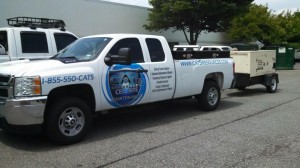 The Cat5 Emergency Response Team deploying generators to the Carolinas in preparation for Hurricane Arthur.
Ready to Roll! Emergency Backup Power Solutions and Fuel Services for Commercial Businesses in the path of Hurricane Arthur
The Weather Channel Reports that Hurricane Arthur now has maximum winds of 90 MPH and is expected to intensify as it heads toward the Carolinas. It is expected to be a Category 2 Hurricane as it nears the North Carolina Coast tonight and early into Friday morning. The potential storm surge is forecasted to raise 3 – 5 feet at high tide in the Eastern North Carolina areas. Hurricane warnings and watches are being announced in North Carolina with Tropical Storm warnings also in effect for coastal areas and parts of North Carolina, northeast South Carolina, as well as Southeast Virginia with a peak impact in the Carolinas later tonight extending into Friday.
The Cat5 Team is ready to roll and will immediately mobilize crews to deploy backup power solutions and other disaster response services to businesses in the projected path of Hurricane Arthur. In the event of a power outage backup power such as propane, hydrogen or diesel generators is crucial to keep your business's critical operations functioning. With our quick response time anywhere in the United States, including the Carolinas, we'll ensure that you don't go down when the power goes out. If it already has gone out, we've got you covered there too! If you have a need for backup power, we have a solution. Give Cat5 a call at 1-855-550-CAT5 (2285).
About Cat5 Resources
Cat5 Resources provides comprehensive cell site maintenance and backup power solutions to the telecommunications industry and other critical infrastructure networks across the nation. Our team is composed of logistics and emergency management professionals with many years of combined experience in the Emergency Management field. Our team has worked every major natural disaster since Hurricane Charley in 2004. We have a 99% success rate with our multi-site clients. We are prepared to support the critical infrastructure of your business no matter what happens.