Skip to content
Common Generator Failures and How to Prevent Them
Disaster strikes! A hurricane is headed your way – but you have a standby generator for your business, so you're safe,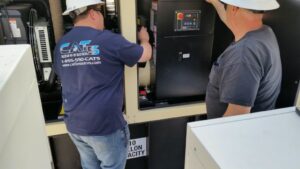 right? Are you sure? Has your generator been properly serviced and maintained? Generators are usually installed with disasters in mind but a well-functioning backup power system seems like a costly distraction from daily business. Not quite as costly, however, as a natural disaster and the detrimental loss of business operations power outages often cause.
Preventative maintenance is important – and this post was originally going to be a "common causes of generator failures" post, but that fell by the wayside when our service department quickly pointed out the number one cause of generator failure is the lack of a planned maintenance. Take a look at our list and you will quickly see what causes most generator issues:
Common Causes of Generator Failure
Dry, cracking and otherwise bad belts
Dead Batteries
Block heater wear and tear
Low coolant, no coolant or lack of oil which causes overheating, over crank, cracked heads, broken pistons, catastrophic engine failure
Lack of fuel, bad fuel, sludge in the fuel tank or lines
Burnt components on the boards, electrical components, stepper motors, transfer coils, ice cube relays
Damages caused by weather and pests
All of these issues can be prevented by implementing a regular maintenance plan for your backup power systems. Generators should be maintained and serviced regularly, at least twice a year. However, depending on the make, model, and purpose, maintenance may need to be performed more often than that. Just a few of the items that should be checked when carrying out scheduled maintenance are:
Full exterior and interior inspection
Cables and connections
Checking for worn parts and upgrading the components
Checking all fluid levels
Changing fuel, oil, air and coolant filters
Checking control panel readings and indicators
Load bank testing and regular exercise
Changing spark plugs
Check for leakage
A solid maintenance plan from a reputable vendor for your generators not only ensures that your business is up and running when you need it most – but it also protects and prolongs the life of your backup power assets by minimizing the need for repairs, increasing reliability, and reducing long term costs. For more information or to request a proposal for a generator maintenance program for your business, contact us today!
About Cat5 Resources
Cat5 Resources, based in Nederland, TX, provides emergency response management, backup power solutions and generator maintenance services to commercial and industrial businesses nationwide.