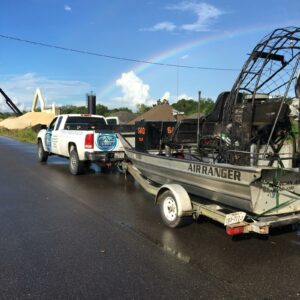 Cat5 Resources specializes in comprehensive disaster response and recovery services, focusing on backup power and fueling solutions. When crises strike, our dedicated team swiftly mobilizes to provide essential support. Cat5 Resources can immediately mobilize crews to deploy generators and deliver a constant supply of emergency generator fuel 24/7 across the nation to any business affected by natural disasters.
Cat5 makes sure our Disaster Recovery Drivers are prepared for anything –  roadblocks, debris, flooding, remote locations, and any other obstacles faced when on the road. All of our Drivers operate well-equipped trucks and if that doesn't get the job done, our DR drivers utilize ATVs, airboats, or even helicopters.
Once generators are deployed, set-up, and running at location, they must be refueled every 12-24 hours or 48-72 hours, based on the fuel tank size and consumption amount. Our Drivers are deployed to keep these generators fueled until commercial power is restored. Even if local fuel racks become inaccessible, Cat5 has fuel resources on standby nationwide.
As an essential first responder, Cat5 Resources operates safely, strategically, and efficiently to ensure the restoration of the mission critical communications infrastructure.
CAT5 RESOURCES DISASTER RECOVERY HISTORY:
Cat5 has responded to every major natural disaster since Hurricane Charley hit in 2004.
During Hurricane Sandy, Cat5 deployed over 300 Disaster Recovery Drivers to service our clients throughout the area. (Not a single client went without fuel, even when local pipelines had been shut down.)
The CAT5 RESOURCES team IS READY TO RESPOND TO ANY DISASTER, ANYTIME.
Count on us for reliable disaster response and recovery services. With Cat5 Resources, you're not alone in the face of adversity; we're here to help you navigate the challenges and emerge stronger.