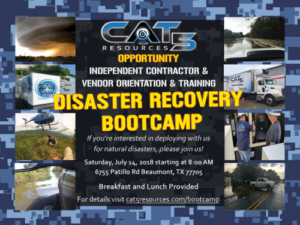 When: July 14, 2018 starting at 8 a.m.
Where: The Cat5 Resources Laydown Yard 6755 Patillo Road, Beaumont, TX 77705 (Off HWY 69/287/96 in the old Sports Connection building.)
You're invited to join us for our 2018 Texas Disaster Recovery Bootcamp. This event will feature training and orientation that is required for anyone who wants to work with us as an independent contractor during disaster recovery events and/or routine deployments. This includes those who are currently signed up to deploy and also those who wish to deploy with us in the future. The Cat5 Resources Disaster Recovery Bootcamp will feature training on generator deployments, fueling, mechanics, and more.
If you're interested in attending this event, please see the Independent Contractor requirements below and RSVP via TEXT MESSAGE ONLY to 409-768-0190. You MUST bring required documents listed below to qualify. The boot camp will be held in an air-conditioned facility however some parts of training may be held outside. Breakfast and lunch will be provided to participants only.
Delivering fuel to customer sites
Deploying generators to customer sites
Starting generators when needed
Troubleshooting minor generator issues
Reporting required information into the command center(s)
Special projects as needed
Possess basic electrical and/or mechanical knowledge
Must own a smart device (smartphone, laptop, and/or tablet)
Must own a reliable 1/2 ton (or larger) four wheel drive truck (Diesel preferred) if you wish to fuel or deploy generators
Must have a flexible schedule, independent contractors are deployed on an as needed basis for disaster recovery jobs. However, lack of availability does not disqualify you from future deployments
Must have valid driver's license, good driving record, and vehicle insurance (Copy of insurance and coverage with limits and liabilities must be provided to Cat5 Resources)
To speed up the onboarding process, please bring a voided check or direct deposit authorization from your bank or financial institution. Also, be sure to bring copies of any relevant certifications or licenses including hazmat, DOT, etc.
To RSVP, text us at 409-768-0190.or e-mail us at info@cat5resources.com. No phone calls, please.
Cat5 Resources, LLC is an EEO/AA (equal opportunity/affirmative action) institution and does not discriminate on the basis of sex, age, race, color, religion, physical or mental disability, creed, national origin, veteran status, sexual orientation, genetic information, gender identity, or gender expression in the programs or activities which it operates.